July is National Ice Cream Month! There's no better way to kick off summer and the holiday weekend than enjoying a delicious ice cream, sorbet, or frozen yogurt from one of our neighborhood ice cream shops. 
A Little Ice Cream History 
Ice cream goes way, way back! Did you know that in its earliest form, ice cream came from Persia around 400 BC? Early lovers of the cold delicacy would pour fruits, rose water, and other sweet flavors on ice. During the reign of Roman Emperor Nero (37-68 BC), a constant supply of ice was hauled down from the mountains, sweetened with honey and fruits to satisfy the emperor's cravings for the icy treat. 
In 200 AD, a new version of ice cream incorporating milk into the recipe pops onto the scene in China. And by the 9th and 10th centuries, in the middle east, primarily in Baghdad and Damascus, ice cream was further enhanced with a mix of fruit, nuts, and flavors blended with cream, milk, and sugar.  
A Much Loved American Treat
Ice cream then traveled worldwide to Europe as a favorite dessert of the nobility, finally landing in the United States in the mid-1700s with Scottish immigrants. The early twentieth century brought ice cream to the masses with the invention of the freezer and mass production, and the rest is history! 
Today, with its flavors and varieties, ice cream is a universally loved frozen treat. Who doesn't love a scoop or two on a scorching summer day?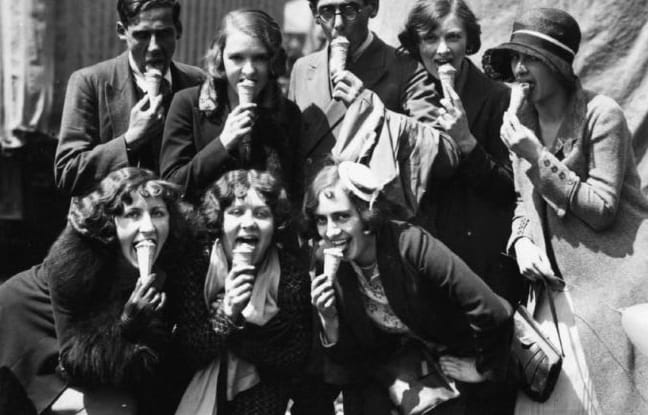 Photo: History.com
Fun Ice Cream Facts 
Brought to you by www.soocial.com.
Americans eat about 22 pounds of ice cream and other frozen desserts yearly.
(IDFA)
Ice cream is the favorite frozen treat among Americans. Moreover, July is the national ice cream month in the US. According to the ice cream consumption statistics by state from the IDFA survey, the majority of ice cream companies have been in operation for over 50 years and are family-owned businesses.
More than 90% of people in the US consume ice cream.
(Research and Markets)
As Research and Market's report indicates, North America was one of the leading ice-cream markets in the world last year. Some reasons for that are the increase in consumer health awareness, the prevalence of lifestyle disorders, and the availability of healthier and innovative ice cream varieties such as lactose-free, low-fat, and gluten-free ice creams.
88% of Americans who bought seasonal menu items were more likely to try a new ice cream flavor if the menu item was seasonal.
(Kerry)
Ice cream sales statistics point out that people in the US are more prone to experimenting with new flavors if they're seasonal (for example, eating sweet potato ice cream during Thanksgiving). Such periods are perfect for manufacturers, as they can test new flavors without committing to them fully.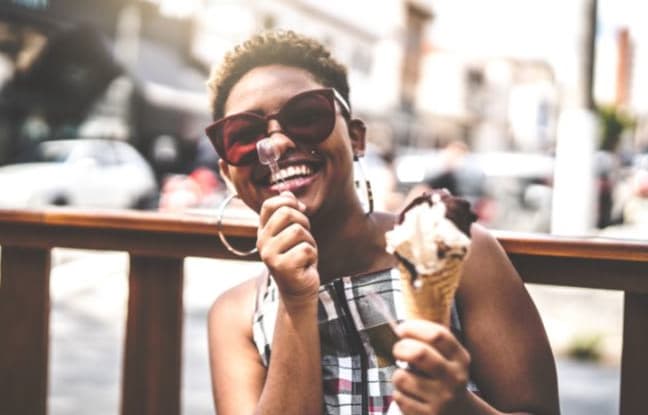 Ready to get started on a local ice cream exploration? 
We've listed some of our close-in favorite ice cream locals in the Pearl and NW Portland. 
Cool Moon Ice Cream 
Cool Moon has a fantastic mix of ice cream flavors and usually has a good number of dairy-free options! They're especially known for their sorbet! And don't forget to load up on the toppings! 
1105 NW Johnson Street
Ben and Jerry's 
World famous Ben and Jerry's ice cream! Certified vegan and dairy-free options. Home to the new Colin Kaepernick's ice cream flavor! Swing by their Pearl District location. 
301 NW 10th Ave
Salt and Straw
Salt and Straw is famous for its variety of unique flavors and has become a national institution! A few years ago, they even did a Christmas collaboration with Dwayne "the Rock" Johnson!
www.saltandstraw.com
838 NW 23rd St
Eb and Bean
Looking for an alternative to ice cream? Eb and Bean is the go-to for organic dairy and plant-based frozen yogurt with delicious toppings! Gluten-free and vegan options. 
645 NW 21st Ave 
Fifty Licks
Peter Cottell of Thrillist "Fifty Licks is beloved for simple, elegant flavors in no-nonsense spaces." 
Fifty Licks is renowned for its classic, delicious flavors! 
1647 NW 21st Ave
Downtown Self Storage - The Small Business Self Storage Solution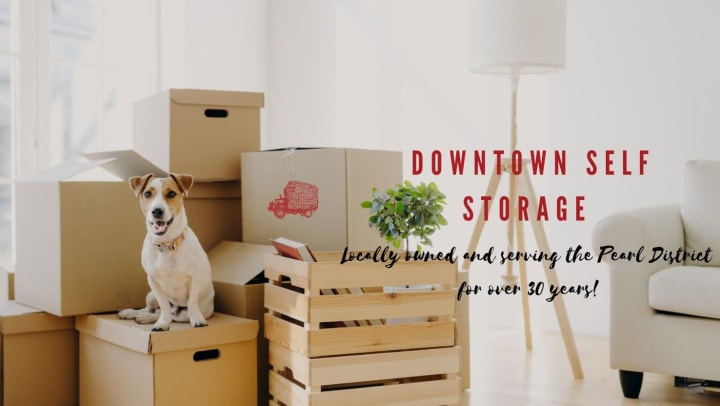 If you need space for your inventory of ice cream cones, scoops, packaging, or other small business self-storage needs? We've got you covered.
Downtown Self Storage has clean, safe, affordable units in two historic, convenient Pearl District, Portland locations. Call our self-storage professionals or check the Downtown Self Storage website and social media for our special pricing. 
We have multiple-size units at great prices and outstanding on-site self-storage professionals to help find the right solution for your storage needs. 
Locally Owned and Serving the Community for over 30 Years 
DOWNTOWN SELF STORAGE - DAVIS STREET
Website: Davis Street 
1305 NW Davis Street
Portland, OR 97209
503-388-4060
DOWNTOWN SELF STORAGE - JOHNSON STREET
Website: Johnson Street  
1304 NW Johnson Street
Portland, OR 97209
 503-388-4061
Follow our Blog for storage tips and connect with us on social media @downtownselfstoragepdx