It's time to decorate for Halloween! Carving pumpkins and putting up the creepy cobwebs is always incredible fun, but buying decor can get pricey fast! If you're looking for a DIY solution, we have suggestions! There's nothing like adding a few spooky touches around your home or business to put you in the mood for October. 
Paper Bats
There are paper snowflakes for Christmas, why not paper bats for Halloween? Just fold a piece of black cardstock or construction paper, draw half a bat, and cut away! Check out the free templates online if you don't want to freehand! By the end, you've got a little creature of the night to tape up! Put your bats around the house, in the window, or string them together as a scary version of holiday garland.
Made Every Day has a great template: https://www.madeeveryday.com/wp-content/uploads/2010/10/Bat-template.pdf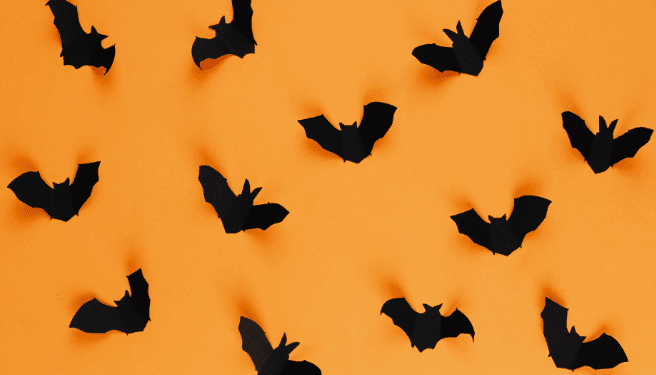 Home-Made Poison Bottles 
Decorate any window or shelf with spooky bottles! You can make scary, old-looking poison bottles using your recycling! Take glass bottles from your recycling, and scuff them with low-grit sandpaper. Try to vary the direction of the scratches, and aim for areas you think would be the most weathered. Then, with a thin layer of brown craft paint, you can make your bottles look like they've been left unattended for decades. Apply any free online spooky labels (use a little mod podge or other hearty glue to stick the labels on the bottles). Boom! Scary bottles for any potions or poison! 
thekimsixfix.com/2014/10/how-to-distress-glass-bottles.html  
https://makesomethingmondays.com/craft-ideas/diy-halloween-potion-bottles/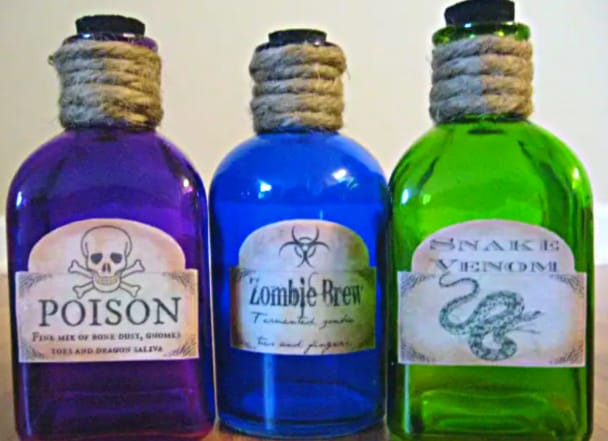 Edible Fake Blood
Think vampires! There are two recipes for edible fake blood that you can use to add a bit of gore to your Halloween costume, fake fangs, or even meals! 
In a small bowl, pour corn syrup, four parts red and one part blue food coloring. Add cornstarch until you achieve the desired thickness. If you'd like something sweeter, you can substitute chocolate syrup for the cornstarch. This method is more kid-friendly and better for desserts. 
https://www.the-girl-who-ate-everything.com/make-edible-blood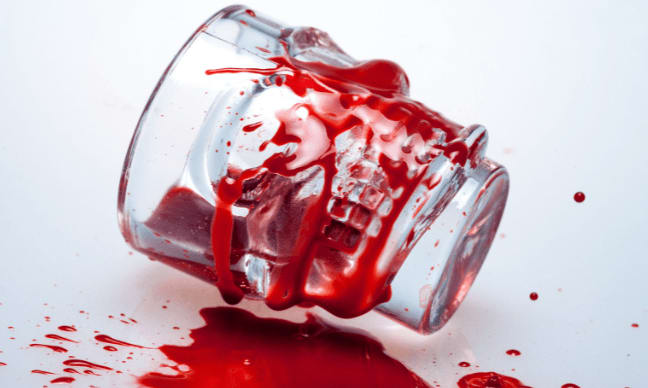 More uses for Pumpkins 
Pumpkin Head 
Cut a large hole in the bottom of a pumpkin, clean it out, and leave the top unscathed. Set aside those innards and seeds. Cut out your favorite spooky face and wear the pumpkin on your head for your favorite Dwight Schrute impression! 
Pumpkin Keg 
If you're planning a party, cut the top off your pumpkin and clean the inside. Set aside for later. 
Get a tap (make sure it has a tightening nut before you get it). Measure your tap and cut a corresponding hole low on the pumpkin. Tighten up that tap, and you're ready to serve! Pumpkin tap kits are available, but you can easily DIY this project. 
Pumpkin beers, sweet stouts, and ciders are will go great with the pumpkin keg. The pumpkin will flavor anything you pour out of it, but you can serve whatever you like.
https://content.kegworks.com/blog/how-to-make-a-diy-pumpkin-keg-tap  
Preserve your Pumpkins 
Pumpkins can rot fast, especially in the warm indoors, and a droopy pumpkin pre-Halloween is a sad thing. But there are ways to keep your pumpkins preserved longer! 
Here's how: Fill your sink or washing area with a gallon of water, two tablespoons of bleach, and a squirt of dish soap. Soak those gourds for about 30 minutes, rinse, and thoroughly dry. Seal the pumpkins with petroleum jelly or vegetable oil, or if you have a matte spray sealer, absolutely spray those pumpkins down once they're good and dry, that'll make them last even longer! 
https://www.onsuttonplace.com/preserve-pumpkins/ 
Downtown Self Storage - serving the Pearl District and Portland community for over thirty years.
Once the spooky season is over and you'd like to store your ghoulish decor for next year, Downtown Self Storage will be waiting for you! We have two convenient Pearl District locations and units of every size available! And, don't forget storage materials for wrapping up those fragile Halloween items.  
New special! 
Rent a unit today and receive 50% off your first three months (size and availability restrictions apply). 
Uhaul
Need moving transport? Both Downtown Self Storage facilities are certified Uhaul rental locations.
DOWNTOWN SELF STORAGE - DAVIS STREET
Website: Davis Street 
1305 NW Davis Street
Portland, OR 97209
503-388-4060
DOWNTOWN SELF STORAGE - JOHNSON STREET
Website: Johnson Street  
1304 NW Johnson Street
Portland, OR 97209
 503-388-4061
Follow our Blog for storage tips and connect with us on social media @downtownselfstoragepdx.
Downtown Self Storage is hiring! Scan the QR code for more information.