Congratulations!
You have the keys to your first apartment.
So you just signed your first lease. Now you have an apartment in an amazing city! Unfortunately, it's likely not furnished. Not to worry! Your friends at Downtown Self Storage have a handy guide for what to spend your money on (and what to skimp on, too). 
Everyone starts with a vague idea of what they want in their home. But working from a vague idea can lead to a lot of expense: better to create a specific list of the items you need and a second for the things you want. Attend to the "need" list first and the "want" list second. According to Statista, the average US consumer spends just over $1,000 on furniture a year, and no one wants to blow their budget on nonessentials. Specific lists will help keep the price tag down. You can fill your home with non-essentials as your budget allows!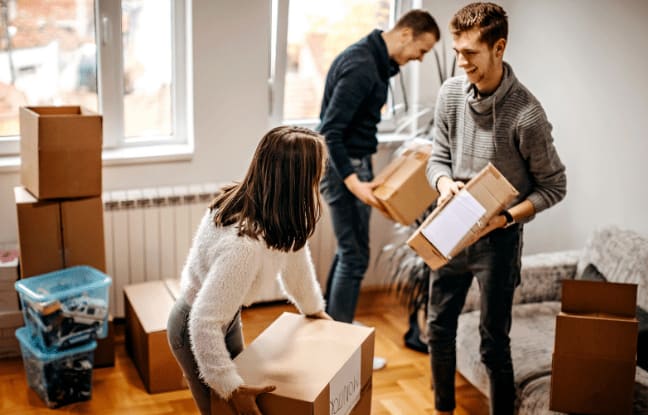 Don't forget to consider your mode of transportation when purchasing furniture.  If delivery isn't an option, it may be difficult to find a transportation option for picking up new furniture.  
Remember, there's no law mandating that you buy all of your furniture right when you move in! 
If you can shop locally, that's the way to go, but if you're having a tough time finding what you need, Overstock, Wayfair, and IKEA are all great places to get cheap furniture! The Dollar Store and other discount shops are also great places for small essentials and any stop-gap items. 
Bedroom
This room is likely to be the most expensive by far, for one reason: the mattress. Mattresses generally cost several hundred dollars, and it's better to spring for one you love than be saddled with a mattress you hate. A mattress is also an item that should probably be purchased new, which raises the cost further but can save headaches later.
Mattress: You'll need a mattress, which will usually run you $250-$1,000 on the cheap end, depending on the size and quality. This is an item you will want to invest in; a good night's sleep is one of the first things on the hierarchy of needs. 
Bedframe: Some people consider bed frames non-essential. To avoid being mocked by your friends and loved ones for the mattress on the floor (bohemian style) we suggest investing in a bed frame, which is usually more than $100 but doesn't have to be much more, depending on the size of the bed. 
Table and lamp: A bedside table and lamp, on the other hand, can be acquired on the cheap. Explore thrift shops or discount options, both of these things could easily be picked up for less than $70. 
Desk and chair: Depending on your situation, a desk and chair may be musts for your bedroom. A chair varies wildly in price, from $20 IKEA chairs to $400 gaming thrones. Desks are in a similar price range to bed frames and could be shunted down to the "want" list if you're comfy working/gaming from the living room. See below.
Dresser: Dressers are also expensive, though you don't need to break the $100 ceiling if you don't want to. They're more flexible than mattresses, certainly. 
Rugs: Rugs.com routinely has sales that will allow you to get a great rug for a song. Further, always check your local vendors. They usually have deals that will blow you away! 
Art: Inexpensive art can always be found at estate sales, second-hand stores, flea markets, and local art exhibitions like First Thursday or Phoenix Friday! 
Kitchen
The kitchen can soak up your entire budget if you're not careful. There are tens of thousands of gadgets for every possible dish. Best to start with the bare minimum and work up from there as needed. There are a million places to get good cooking gear, best to make a price comparison to make sure you're getting the best deal. 
This section is critical, of course, if you plan on cooking in your own place. That's the way to do things if you don't want to break the bank. If you have a small kitchen, best to get tools that can accomplish as many tasks as possible: you're looking for versatility here.
Generally speaking, World Market, Bed Bath and Beyond (those of us on a budget) and Amazon are going to be the easy options, but here are some specifics:
Pots and pans: Bed Bath and Beyond has options for under $70 for complete sets of pots and pans. It's not easy to stay under budget here, especially when buying only one or two pans. You can use a big pan to fry a single egg if you have to. A single large pan (10") can sell for less than $20. 
Knives: Knives can get expensive, and they don't have to be. Henckels-Zwilling has a ton of high-quality knives, the kind that last a home cook years, for less than $50. IF you spring for a set, you'll likely be able to stay under $150 and come out with an armful of great knives. 
Coffeemakers: Coffeemakers are controversial among Portlanders, but a decent quality setup doesn't need to break the bank. An Aeropress is usually available for under $30, and a decent Mokapot will run at around that price point. A sturdy coffee pot at Target costs under $20 and serves many much-needed cups a day!
Garbage and Recycle Cans:  A garbage can is an essential item.  Make sure you invest in something sturdy and large enough for your needs. If you lack under-counter space, get something a little nicer with a cover. No one wants to see and smell garbage. 
So many enjoyable things to add to your kitchen list, depending on your passion for cooking and food.  The kitchen is very personal and another place to add items slowly as your budget and cooking expertise expands.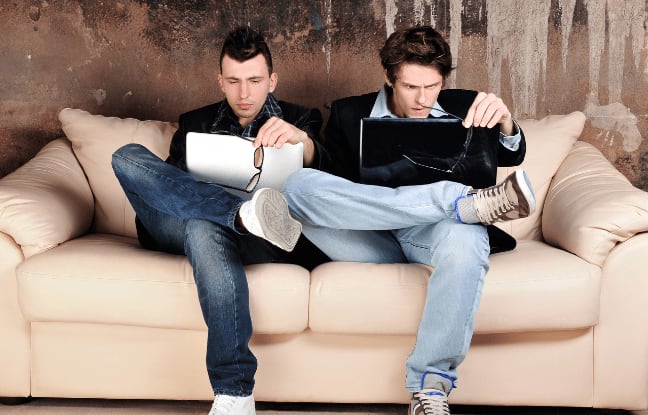 Living Room
Having friends over in your empty new apartment can be a little demoralizing. So, it's best to get some furniture in there ASAP. Overstock, Wayfair, and IKEA are all great places to get furniture on the cheap. And if you have any trusted friends or relatives looking to get rid of a side table, well, you may be able to scoop up some free stuff! (Note: while you can accept furniture from strangers or off the street, it's not recommended, it's best to avoid upholstered furniture and to inspect anything you take before you bring it home. 
Sofas: Sofas are expensive. They're also a big centerpiece, so it's best to grab the one you actually like. IKEA has some great options under $250, but you can expect a couch on the cheap side to be around $400. An armchair may be redundant if you got a good sofa, but otherwise, it makes a great addition. 
Coffee tables: Coffee tables aren't usually considered a statement piece, so you can skimp on a cheap one. It's unusual to find a coffee table so awful that it will outshine your couch. Find a functional solution, coffee tables can be under $20 almost anywhere. 
Dining: Dining sets are expensive too. While there's a well-reviewed IKEA set for $140, most table and four chair sets vary from around $200-$400. Most are cheaper, and with that in mind, it's possible to furnish a living room for under $1,000. 
TV/Monitors: While some would say that a TV isn't a necessity, that's not the case for many of us. Smart TVs can get expensive, but the Class Hisense A6G is only $310 at Best Buy. For a 43" screen, that's nothing to sneeze at! Check around and always look for sales and discounts at certain times of the year.  
More on art and rugs: Art can be as a need or a want or a need depending on the person.  As mentioned earlier in the post, there's some great art out there for reasonable prices if you look hard enough.  Local and student artists' art shows are also great places to meet people and find creative additions to your home.  
Rugs help dampen sound, and depending on your apartment and budget, many options are available.  Do a little homework on and offline, and you'll get a great deal.  
Bathroom
While bathrooms usually have an included medicine cabinet or other storage spaces, sometimes there's just not quite enough room. Especially with roommates, having an extra organizer can help. While additional shelves usually run over $100, smaller tables are reasonably priced! A small corner table (to utilize that unused space) is $19 at Wayfair, and the classic "IKEA Lack" table is $9.99. IKEA also has a variety of little wheeled organizers for under $40 if you're looking for a more space-efficient approach. 
Towels, washcloth, and a few basic necessities depending on space and bathtub/shower arrangement.  
Shower curtains and shower rings to hang the shower curtain can range in price from inexpensive to pricey based on design and material.  Regardless, spend the money on a washable shower.  The liner will save money in the long run,  is more sustainable, and helps your curtain last longer.
Fun stuff! Candles, counter and drawer accessories, a high-powered mirror for better lighting and close-up viewing.  All great to have but lower on the must-have list.
Enjoy!
Moving into a new home for the first time can be stressful, especially with a student's budget. But it doesn't always have to be! Make a list, prepare a budget and enjoy the journey of decorating your first space.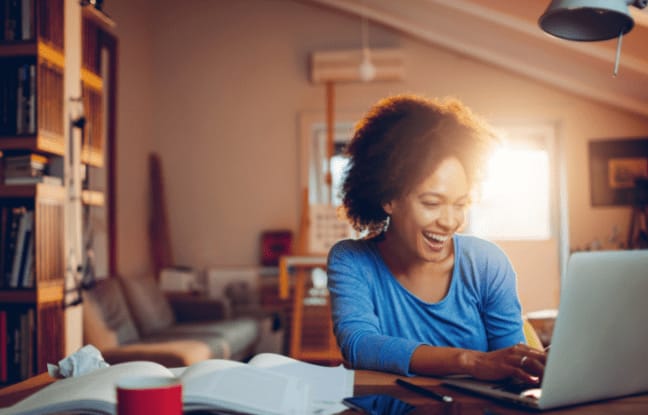 Downtown Self Storage 
And if you ever find yourself with too much stuff, need a place to store a few things while you get organized, or need moving supplies, remember that Downtown Self Storage has your back! We've been locally owned and operated for 30 years and have units of every size available. Check online for specials, or give us a call.  
DOWNTOWN SELF STORAGE - DAVIS STREET
Website: Davis Street 
1305 NW Davis Street
Portland, OR 97209
503-388-4060
DOWNTOWN SELF STORAGE - JOHNSON STREET
Website: Johnson Street  
1304 NW Johnson Street
Portland, OR 97209
 503-388-4061
Follow our Blog for storage tips and connect with us on social media @downtownselfstoragepdx