Fall and winter tend to bring bad weather in the PNW, which can take a toll on our shoes. Most of us don't do a great job maintaining our footwear, but it can be quite the money saver and extend the life of a good pair for years! And if you ever need somewhere to store your vast collection of shoes, Downtown Self Storage has you covered! 
General Shoe Maintenance Rules
Remove Laces
Removing your shoelaces will allow you to clean and apply product to your shoes more evenly and effectively. It's also an opportunity to wash or replace old laces. 
How you clean laces will vary depending on the material (see the breakdown below) but as a general rule, they don't require as much attention as the shoe itself. They can, however, get as dirty as anything else. Depending on the material, a simple wipe down will suffice for some laces.
Research your Product 
Shoe polish comes in various forms and colors, and using the right one is critical to the shoe's health. Products come in different colors and the wrong one can stain your shoes. Likewise, you don't want to damage a pair of leather boots by applying a general cleaner instead of a leather conditioner. It seems like common sense, but it's not as common as you'd think. Read the labels, look online and do a little digging into your shoe polish or conditioner. Research will save you a lot of grief in the long run. 
Store in a Stable Environment 
This may be a common theme, but too much exposure to sunlight, heat, or moisture can damage almost anything over time. Shoes are no exception. If you're going to store your footwear for a season, it's best to do it somewhere that is cool, dry, out of the sun, and not prone to large fluctuations in temperature.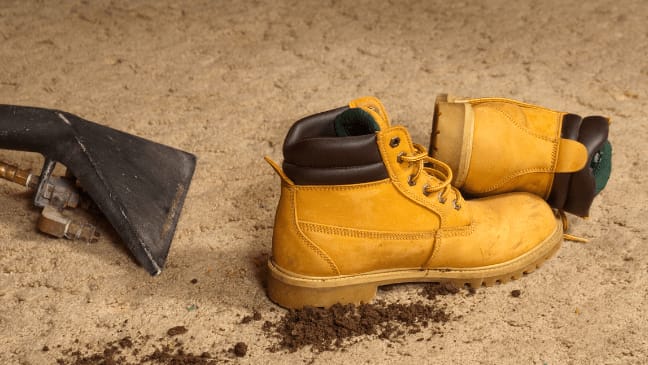 Leather
Give your shoes or boots a quick brushing if you have a boot brush. If not, go over them with a dry rag. Remove any dirt or dust before applying product.

After your shoes or boots are clean, apply your balm or conditioner. There's no need to break the bank: there are some excellent products for $10 or less, and they'll add years of life to your footwear. 

To apply your balm or conditioner, test on the tongue or another small section (if it's a new product) before going all in. 
Next, apply the product to the entire boot. Put a dollop of product about the size of a quarter on a new rag and rub it in. Terrycloth or chamois rags work best, but work with what you have. With a third rag, remove any extra product. Let your boots dry for about 20 minutes or half an hour, then let them rest for 12 hours. After the long rest, give them another wipe down to eliminate excess moisture. 
Ideally, you should condition your boots once per season or once a month if you wear them daily or live in a brutal climate. 

If your leather boots get wet, just let them dry normally! Trying to heat them up can cause irreparable cracks in the leather.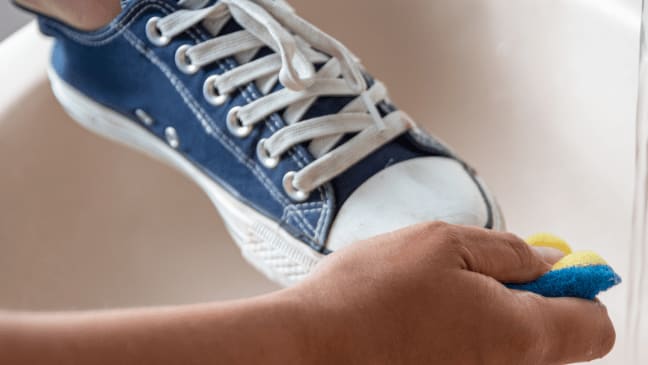 Athletic 
Most athletic shoes are made to be machine washable and it's usually fine to do so. However, be careful of machine washing: the heat and water can weaken the glue that many shoes rely on. This can drastically shorten the life of your shoes. 
If you do wash your shoes, wash the laces too, but pull them off first!
Use cold water to wash your shoes, and don't overdo it with the detergent! The residue from cleaning products can discolor fabric. 
Don't dry your sneakers in a dryer: let them air dry. The heat can damage the glue. If you stuff the inside of the shoe with dry rags, they'll dry much faster.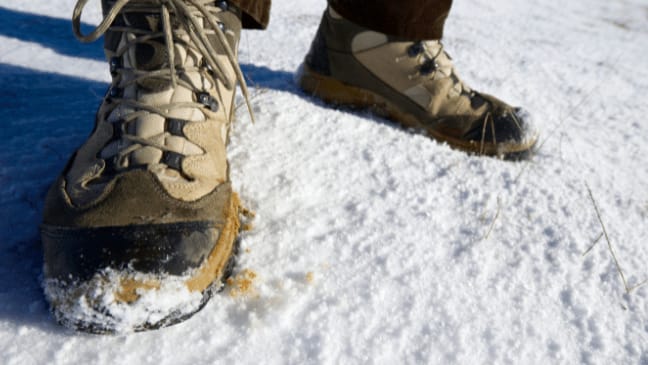 Outdoor Footwear 
For hiking boots, it will depend on the material. Synthetic materials will act more like athletic shoes, and leather outdoor boots will be treated differently (see the steps for cleaning leather). That being said, hiking boots and other outdoor shoes will be subjected to more abuse than other shoes. REI has some valuable tips:
Mold is best cleaned with an 80/20 mixture of water and vinegar.
Don't use bar soap: use products made specifically for what you're cleaning: regular soaps and detergents can damage footwear.
Waterproofing your boots is very similar to conditioning leather boots. Synthetic boots don't need waterproofing, but you can still apply product on the non-webbed areas. For leather, clean thoroughly, apply your waterproofing agent, and wait for it to air dry. No need to hurry the drying process by applying heat. As we mentioned before, we want to avoid cracking. 
Protect your Footwear 
Downtown Self Storage is the perfect place to store those flip-flops, summer clothing, and gear you don't plan to see until spring. We have safe, clean indoor units for all your storage needs and sell packing supplies perfect to store your vast collection of shoes. Check with our self storage professionals for the right size storage unit for your needs.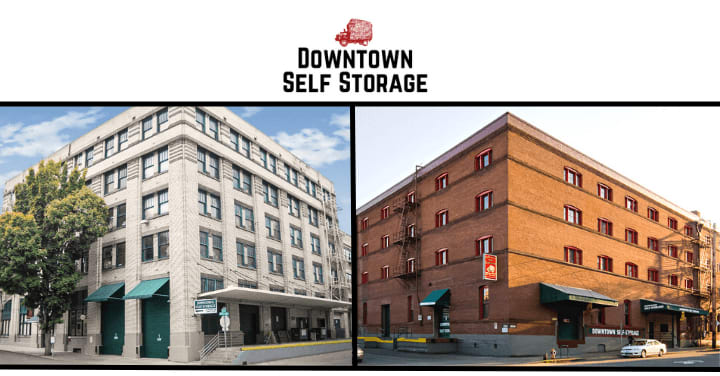 Downtown Self Storage, serving the Pearl District and Portland community for over thirty years.
Check out Downtown Self Storage's new specials! 
Rent a unit today and get 50% off your first three months!*
*size and availability restrictions apply 
Both Downtown Self Storage facilities are certified Uhaul rental locations.
DOWNTOWN SELF STORAGE - DAVIS STREET
Website: Davis Street 
1305 NW Davis Street
Portland, OR 97209
503-388-4060
DOWNTOWN SELF-STORAGE - JOHNSON STREET
Website: Johnson Street  
1304 NW Johnson Street
Portland, OR 97209
 503-388-4061
Follow our Blog for storage tips and connect with us on social media @downtownselfstoragepdx.