The 4th of July holiday weekend is almost here! 
This weekend is the unofficial start of summer in Portland! The weather's warming up, and we can't wait to have friends and family over for barbecue and cold beverages. Every host wants their patio to look as good as possible, of course, and there amy be a little maintenance to do. Nine months of Pacific Northwest weather can do a lot of damage. Not to fear! We've assembled a maintenance guide to make your patio perfect for that barbecue. 

Start with the Basics
Whether you have a large deck or a small balcony, sitting outside for coffee or having guests over for a barbecue is a must during the summer months. Begin by performing a quick sweep or vacuum over the floor and wiping down the railings to remove any loose dirt before treating any stains. This will make your life easier in the long run.
For patios or balconies with neighbors underneath, clean as if you're cleaning your interior floors. Vacuum or sweep, then use a mop, be considerate of your neighbors and make sure not to drip any water onto their space.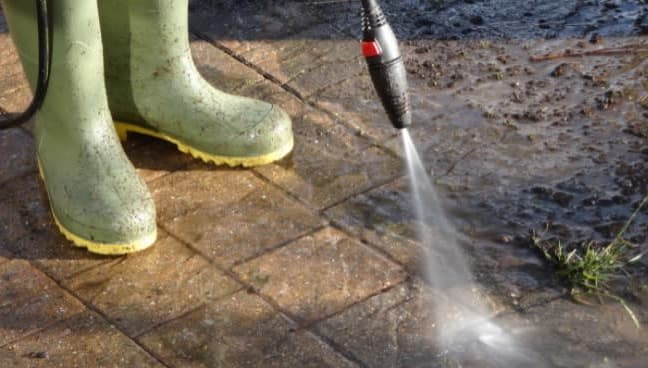 To treat mildew and mold stains on your patio, you have options depending on the material. A pressure washer is effective and can be rented at a local home maintenance store, but be cautious not to damage soft wood on your deck. Alternatively, a garden hose can spray off any surface, walls, or railings. If mildew or stains persist, try a mild soap and water solution for scrubbing without harsh chemicals or bleach. Rust stains on railings can be pretty straightforward, white vinegar works beautifully to break them down. Just spray it on, wait for about an hour, and scrub! 
Grease and oil stains are a different beast. First, try to soak up as much grease as possible with an absorbent material. Baking soda is an excellent option for this. Once you've gotten as much grease as possible, mix some baking soda with water to make a paste. Gently scrub this paste into the stain, and let it sit for about an hour. After that, hose everything down and see if the stain is gone. You may need to repeat the process. Avoid using harmful chemicals if possible. As a last resort, cover the stain with a fabulous outdoor carpet or strategically place a planter over the trouble area.
Patio Furniture Cleaning Tips
Properly maintaining your outdoor furniture is crucial to ensure its longevity. To clean your furniture, use natural products, and water as directed is recommended. Refer to the manufacturer's instructions and use non-toxic solutions like Murphy's Oil, mild dish soap, or white vinegar for cleaning. 
Before using any new product, test it on the back of the legs or the underside of the seat to avoid staining or damage. Harsh chemicals such as bleach or degreasers can harm most outdoor furniture. 
Wicker 
A few drops of dish soap in two cups of water creates a great solution to clean wicker. Dampen a rag with the solution and get cleaning! It's important not to saturate the chair - too much moisture will damage the wicker. Damp, not wet. To keep your wicker healthier for longer, don't leave it in the sun: the heat weakens and discolors the fibers. If you're away for some time, take your furniture inside, buy a cover, or store it. 
Wood
Wooden outdoor furniture is generally tough. Clean with a soft clean brush, in the same solution as wicker. A mild dish-soap solution or Murphy's Oil in water ought to do it. You can use more water for this step, but be sure to rinse with clean water and pat dry afterward. Avoid leaving the wood wet, as prolonged water exposure can cause cracking and long-term damage. Sealing the wooden furniture is a good idea, but not critical. 
Plastic and Hard-Resin
The same principles apply. Use a mild cleaning product like white vinegar or liquid dish soap with water and a soft bristle brush. Use baking soda for tougher stains. Homify has step-by-step instructions for making white plastic furniture shine. Need more outdoor furniture cleaning tips? Check out our blog!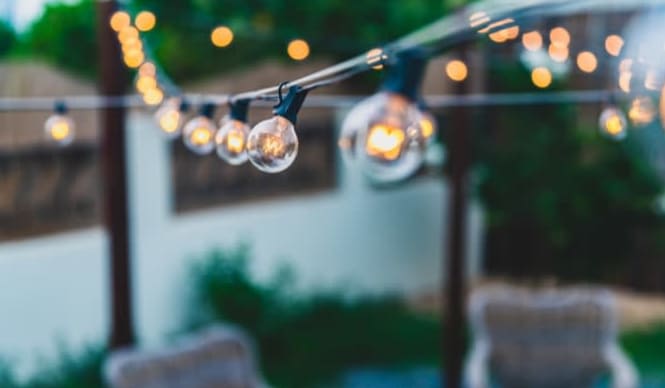 Create a Unique and Personal Outdoor Space!
Decorating is the fun part! And it doesn't have to break the bank. String lights are a fantastic way to keep the party going at dusk, with many size and type options available. Fun outdoor cushions, rugs, and even a gauzy curtain can turn your urban patio into paradise. Pick a theme and have a blast! 
Photo: Popsugar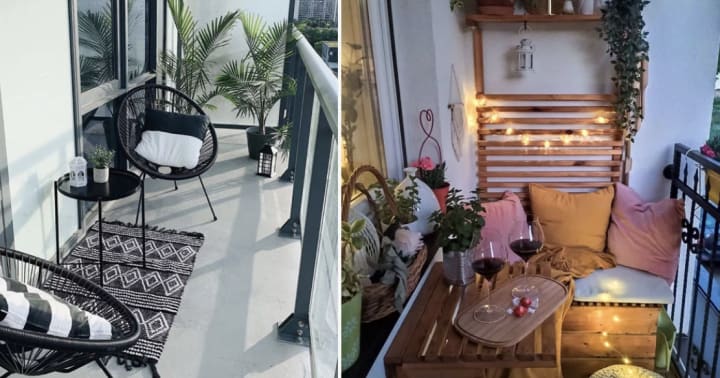 Summer Flowers
What better way to embrace the summer season than with a stunning display of plants or flowers? The amount of greenery largely depends on the amount of sunlight, the size of the outdoor area, and the level of maintenance required or desired. From charming window boxes filled with vibrant annuals to large planters with balmy palm trees or perennials, the sky's the limit! Consult with a gardening professional at your local garden center to determine which plants will thrive best in your home. Are you living in a small space but still want to have plants around? Our apartment garden blog provides tips when square footage is limited.
Now that your patio looks flawless, it is time to celebrate and have some fun in the sun! 
Store your Outdoor Furniture
When our amazing PNW summer eventually ends, and it comes time to put away the lawn furniture, we hope you'll choose to store it with your neighborhood self-storage facility. 
Downtown Self Storage is your trusted local self-storage resource for over 30 years. With a range of unit sizes available at two convenient Pearl District locations, we make it easy to store your belongings and keep them safe. And if you need to rent a U-Haul or stock up on storage supplies, we've got you covered. So why wait? Contact us today to help you find the perfect storage solution.
And from all of us at Downtown Self Storage, we wish you a happy and safe 4th of July!
Monthly Special 
Rent a unit today and receive 50% off your first three months (size and availability restrictions apply). 
U-Haul for Rent
Need a truck or van? Both Downtown Self Storage facilities are certified U-Haul rental locations. Reach out to our self-storage professionals to reserve.
1305 NW Davis Street
Portland, OR 97209
503-388-4060
1304 NW Johnson Street
Portland, OR 97209
 503-388-4061
Follow our blog for more storage tips! Connect with us on social media @downtownselfstoragepdx.