What is leaf peeping? 
It's a funny phrase: Merriam-Webster defines a leaf peeper as "a person who visits wooded areas in autumn to view the changing colors of the foliage." Who doesn't like a long walk in the woods to get a gander at the fall leaves? But why do the leaves change color anyway?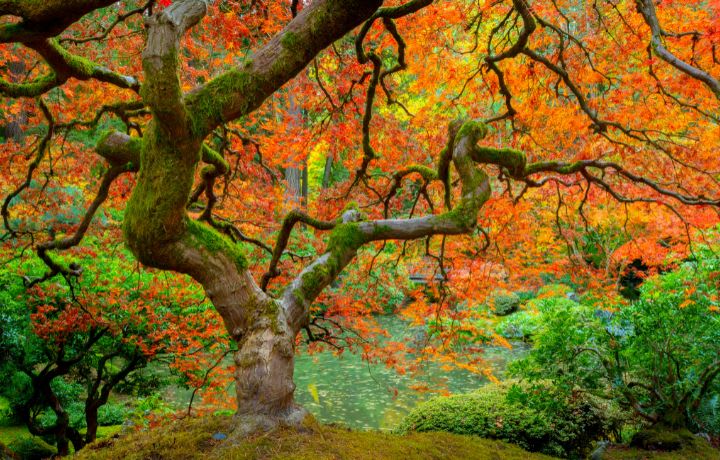 Image - Japanese Garden
Why do the colors change? 
When the fall rolls around and the days shorten, deciduous trees stop investing so much precious energy into harvesting sunlight, it's just not worth it in the winter. There are fewer resources to be had, so trees decrease their chlorophyll production before they drop their leaves. Chlorophyll is the material that allows them to convert sunlight into energy. Chlorophyll is very green, and when the trees start making less of it, other pigments present in the leaves become visible. The gorgeous fall colors we enjoy are a mixture of four chemicals: chlorophyll for green, anthocyanin pigments for red, beta-carotene for orange, and carotenoid pigments for yellow. The interplay of these can create all of the beautiful colors we associate with fall. 
When should we peep the leaves? 
Trying to predict when the leaves will change can be a little challenging. The conditions vary each year. A drought can prematurely turn the leaves, and if conditions were good or fall was unseasonably warm, the leaves might not change for another few weeks. Generally speaking, the leaves will be at their most vibrant in late October. 
Leaf peepers should hope for crisp, clear fall days. The cold will alert the trees to the changing seasons, and they'll begin pulling chlorophyll out of their leaves. Below freezing, however, is too cold: it can kill the leaves before they change. Rough conditions (wind, rain, et cetera) can shorten the season and prevent those really vibrant colors. There are many variables that go into leave color, but there is a general range of best opportunities for leaf peeping in Portland (see image below). 
Data - KOIN 6
Oregon is over 20,000 square miles larger than the entire New England region, so there's a lot of ground to cover. There are more falling leaves in the Willamette Valley than in the rest of the state: many trees in the high desert and forests tend to be evergreen. But that doesn't mean that the rest of the state lacks fall colors! 
The Oregon Fall Foliage Blog is an excellent resource for finding the state's best leaf peeping. 
Portland is lucky, as it happens to be host to some of the state's best leaf-peeping. Wander the trails of Forest Park, or stroll down the Park Blocks. The Japanese Garden and Hoyt Arboretum are both spectacular visits in the fall. You don't have to go far to get beautiful fall views.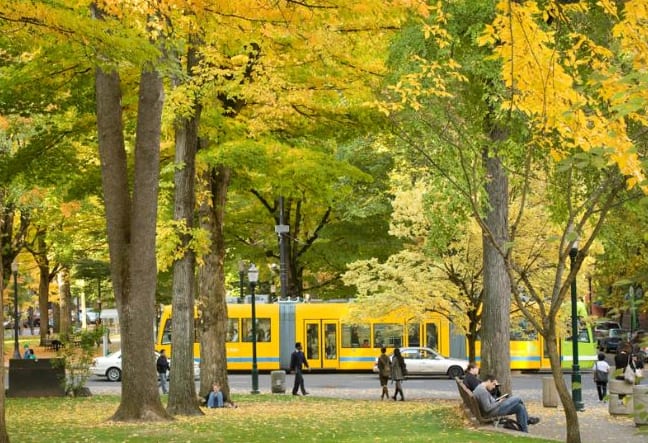 Image - PSU
Prepare for the season.
Fall is here! The air is crisp, the leaves are changing, and Halloween is around the corner. Need to prepare your yard, deck, or patio for winter? Grab your rake and recyclable leaf bags out of storage and enjoy one of Portland's most colorful seasons. And check out our blog about keeping outdoor furniture safe from cold weather conditions: www.downtownselfstorage.com/blog/store-your-outdoor-furniture-safely
If you ever need a place to store your things to help prepare you for the PNW fall and winter, Downtown Self Storage has units available in every size for your convenience. 
Downtown Self Storage - serving the Pearl District and Portland community for over thirty years.

New special! 
Rent a unit today and receive 50% off your first three months (size and availability restrictions apply). 

Need moving transport? Downtown Self Storage facilities are certified Uhaul rental locations. And, don't forget those moving supplies, we have everything you need on-site at both facilities.
DOWNTOWN SELF STORAGE - DAVIS STREET
Website: Davis Street 
1305 NW Davis Street
Portland, OR 97209
503-388-4060
DOWNTOWN SELF-STORAGE - JOHNSON STREET
Website: Johnson Street  
1304 NW Johnson Street
Portland, OR 97209
 503-388-4061
Follow our Blog for storage tips and connect with us on social media @downtownselfstoragepdx.