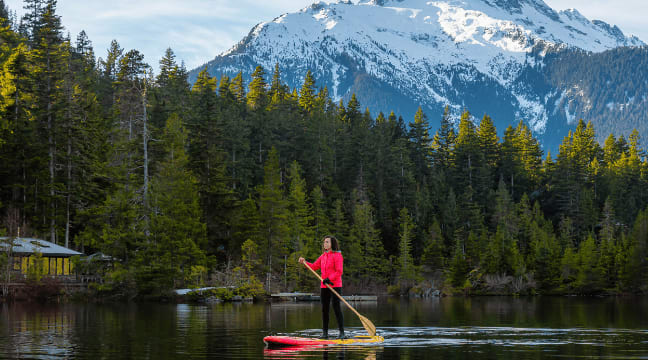 ​​It's officially fall, which means that the season for watersports is drawing to a close. Before your thoughts turn from sunny days on the river to snow-covered adventures on the mountain, Downtown Self Storage has a few suggestions for safely prepping your paddleboards, kayaks, and life vests for winter storage. 
Paddleboards 
Storing your stand-up paddleboard (SUP) indoors for the winter is the best option, but if you lack space, self-storage is an inexpensive option and protects the board from sun, moisture, and heat. Even indoors, you'll need to follow a few steps to keep your SUP in tip-top condition for years to come.
Give it a wash. Rinse it and dry it thoroughly, including the paddles.
Dry completely. If it's inflatable, remove any internal moisture by leaving it in the sun to dry, pumping the liquid out as best you can, or, ideally, both. Don't forget to leave the valve open.
Avoid heat and sun. During storage, keep the paddleboard out of the sun in a cool, dry place. That's a good idea for storage generally. 
Elevate if possible. If you have a solid board, it's best to keep it off the ground with a rack or a suspension system.  Check local outdoor retailers for options.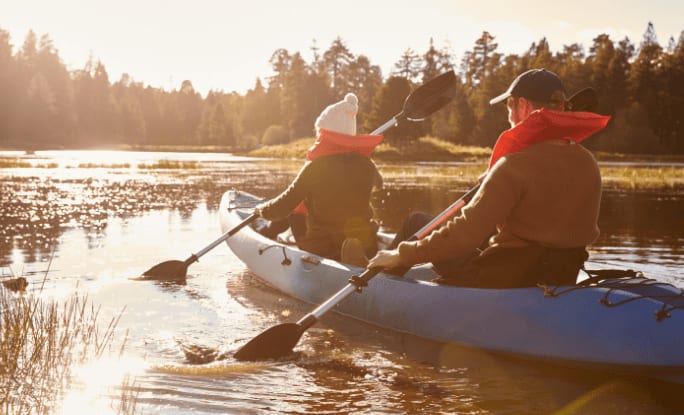 Kayaks 
As with paddleboards, an inflatable kayak can be cleaned, rolled up, and stored in a clean, dry place. A hardshell, on the other hand, requires some space. The general rule of storage here comes in again: you'll want to store your kayak in a cool, dry place without direct sunlight. 
The goal of successfully storing a kayak is to avoid any kind of damage.  Why? Prolonged exposure to an excess of heat, cold, sun, or water can damage, deform, or otherwise degrade your kayak's hull. 
Clean your kayak, and be thorough: rinse your craft off, of course, and be sure to foot braces, rudder, and rudder cables. Once or twice a year, go over your kayak with a mild, we repeat, mild, soap mixture. 
Distribute weight evenly.  When storing your hardshell craft, be sure to place it so that weight is distributed evenly across the hull to avoid deformation over time. Any "pressure points," as REI puts it, can also deform. A rack or suspension system is ideal, with supports positioned about a third down the kayak on both sides. Padded supports are preferable, of course. 
Wash your accessories. No one wants a crusty paddle or, worse, an unwashed bilge pump. 
Easy access. Store your boat somewhere you can get to it!  Check with your Downtown Self Storage team about the best options for storing your kayak for access, just in case you want to enjoy a fall or winter outing.
For more gear storage tips, check with REI or US Outdoor Store in the Pearl District.
Life Vests
Like with kayaks, improper storage can do serious damage to life vests. By storing your life jacket properly, you can add years to its life. 
Find a good storage area. Store in -you guessed it- a cool, dry place. Too much heat or cold (expansion and contraction of the material over a long period) can do serious damage. 
Let your vest dry throughout. Dry out your life vests before putting them away for the season: storing a damp vest is a surefire way to buy a new one. 
Hang up. When storing, hang your vests. Don't pack them in a box, ventilation can help avoid mildew. 
Additional helpful information - Sea Tow Foundation
Neighborhood Self Storage 
If you're looking for a cool, dry place to keep your kayaks, canoes, paddleboards, and life jackets out of the elements, look no further than your local Downtown Self Storage! We have affordable units available in a variety of sizes. Our locations in the Pearl District make us ideally placed for pickup and drop-off.  We've been storing our neighbor's summer gear for over 30 years, and are happy to help with any questions or suggestions regarding the type of unit you'll need for all that summer (and winter) gear. 

Check the website for our monthly specials!  
DOWNTOWN SELF STORAGE - DAVIS STREET
Website: Davis Street 
1305 NW Davis Street
Portland, OR 97209
503-388-4060
DOWNTOWN SELF STORAGE - JOHNSON STREET
Website: Johnson Street  
1304 NW Johnson Street
Portland, OR 97209
 503-388-4061
Follow our Blog for storage tips and connect with us on social media @downtownselfstoragepdx