It's getting warm outside! It's time to break out the barbecue, paddleboard, and as many pairs of sunglasses as you can carry! Of course, some of your equipment might require attention before your first lawn or patio party, or your first big hike. Not to worry, Downtown Self Storage is here to help!
We have a few tips and local places to get your summer started right. 
Light Up the Grill! 

Barbecues are prone to rust, especially on the grill, if left uncleaned for some time. If your barbecue has rusted over the winter, don't worry! A two-to-one ratio of vinegar and salt and a little elbow grease can clean off that grate in no time! There are also store-bought compounds, like Bar Keeper's Friend, if you need something with a little more teeth. 
Either way, you'll want to remove and soak the grill overnight and scrub off any remainder later. Rinse and repeat if rust remains! Make sure to put down a garbage bag to prevent spills! 
Need Inspiration for an Outdoor Cookout?
Check out our local Basics Market's recipes including the Basics Burger, Cowboy Cornbread, and Rustic Fruit Tart. 
The grill is cleaned and ready to go. Pull out the burgers and brats, Hawaiian shirts, and the ukulele, and let's get this party started! Missing something? A summer kick-off barbecue is not complete without that easy, breezy, Jimmy Buffet look. If you're in need of the perfect Hawaiian shirt, Revolvr Menswear is your spot! Check out the variety of patterns - add flip flops and a fruity beverage and you're ready to go!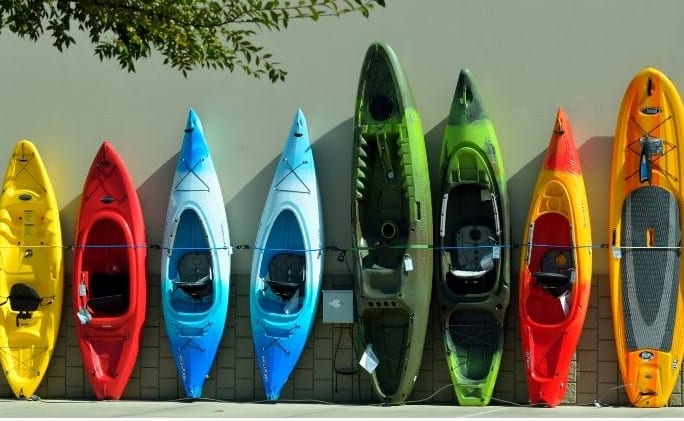 Celebrate the Outdoors - Storing Paddleboards and Kayaks 

Planning to play on the water this summer? Don't let limited storage space hinder your enjoyment of the outdoors. Downtown Self Storage has a variety of unit sizes for all your outdoor recreation gear needs.
Paddleboards 
Storing your stand-up paddleboard (SUP) indoors for the winter is the best option, but if you lack space, self-storage is an inexpensive option and protects the board from sun, moisture, and heat. Even indoors, you'll need to follow a few steps to keep your SUP in tip-top condition for years to come.
Give it a wash. Rinse it and dry it thoroughly, including the paddles.
Dry completely. If it's inflatable, remove any internal moisture by leaving it in the sun to dry, pumping the liquid out as best you can, or, ideally, both. Don't forget to leave the valve open.
Avoid heat and sun. During storage, keep the paddleboard out of the sun in a cool, dry place. That's a good idea for storage generally. 
Elevate if possible. If you have a solid board, it's best to keep it off the ground with a rack or a suspension system.  Check local outdoor retailers for options. 
Kayaks 
As with paddleboards, an inflatable kayak can be cleaned, rolled up, and stored in a clean, dry place. A hardshell, on the other hand, requires some space. The general rule of storage here comes in again: you'll want to store your kayak in a cool, dry place without direct sunlight. 
The goal of successfully storing a kayak is to avoid any kind of damage.  Why? Prolonged exposure to an excess of heat, cold, sun, or water can damage, deform, or otherwise degrade your kayak's hull. 
Clean your kayak, and be thorough: rinse your craft off, of course, and be sure to foot braces, rudder, and rudder cables. Once or twice a year, go over your kayak with a mild, we repeat, mild, soap mixture. 
Distribute weight evenly.  When storing your hardshell craft, be sure to place it so that weight is distributed evenly across the hull to avoid deformation over time. Any "pressure points," as REI puts it, can also deform. A rack or suspension system is ideal, with supports positioned about a third down the kayak on both sides. Padded supports are preferable, of course. 
Wash your accessories. No one wants a crusty paddle or, worse, an unwashed bilge pump. 
Easy access. Store your boat somewhere you can get to it!  
Check with your Downtown Self Storage team about the best options for storing your kayak and paddle board for easy access.
Need Gear? The Pearl District has Options!
REI
You'd be hard-pressed to find someone who lives in the PNW who doesn't know REI. In addition to bike shop services, rental gear, and services for their ski and snowboard shop, REI has all the outdoor gear you could possibly need, for any season. 
https://www.rei.com/stores/portland 
Outdoor Store
Family-owned and operated since 1957, US Outdoor Store has been a fixture of the Portland Outdoor space for almost 80 years. They boast a huge collection and rentals to boot! Don't miss out! 
Go Local
Support local business!  Our community is a great place to live, work, and play. The Pearl District neighborhood has a variety of restaurants, bars, shops, parks, and green spaces.  The Pearl District Neighborhood Association (PNDA) does inspiring work with volunteers cleaning up our streets and keeping our spaces livable. There's a robust art community with the First Thursday Street Gallery and Art in the Pearl!  
Downtown Self Storage has served the Pearl District and Portland neighborhoods for over 30 years. We are proud to be a local business located in the heart of Portland's original creative district, and a part of the Pearl District Portfolio.
Downtown Self Storage has clean, secure storage available in two convenient Portland's Pearl District locations! We sell boxes and moving supplies too! And, don't forget our specials!
DOWNTOWN SELF STORAGE - DAVIS STREET
Website: Davis Street 
1305 NW Davis Street
Portland, OR 97209
503-388-4060
DOWNTOWN SELF STORAGE - JOHNSON STREET
Website: Johnson Street  
1304 NW Johnson Street
Portland, OR 97209
 503-388-4061
Follow our Blog for storage tips and connect with us on social media @downtownselfstoragepdx