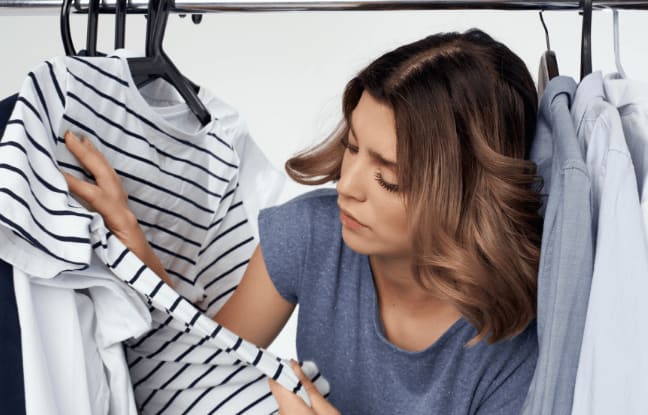 It's fall in Portland, which means it's time for rain. What to do with your cute shorts, flip-flops, and summer suits? And yes, we know that Portlanders are weatherproof and can maintain a wardrobe of shorts and a t-shirt under a puffy coat deep into December. But for the rest of us, time to pack our summer stuff, break out the flannel and prepare for the cozy season!
Overwhelmed by the seasonal transition? Not to worry, Downtown Self Storage has some simple tips and tricks for storing your summer wardrobe. 
Organize

Before you even begin storing, take stock of your clothes: is anything torn or just out of fashion? Does it fit? Do you want to keep everything? If you don't, be sure to donate anything and everything you can.
Prep is Important
If you've been keeping up with the Downtown Self Storage Blog, this next portion might sound familiar: before storing, wash and thoroughly dry your clothes, and especially your swimwear. Dirt, grit, and oil can all damage fabric over time. Delicate fabric, like linen or cotton even more so. Of course, mildew is also an issue, so make sure everything is bone dry.
Keep the Critters Away
Don't forget about bugs. Lavender sachets and cedar are great alternatives to mothballs, but it's a personal preference, and there are many options.
Prevent Damage
The first significant storage issue to keep in mind is that most summer clothes are made from lightweight fabric, which makes them more delicate and susceptible to snagging and wrinkling. Lightweight knit summer sweaters and tops are especially vulnerable to tears. If folding and storing in boxes, wrap sweaters or more fragile clothing with white, acid-free tissue paper. And be very careful about hanging these garments, hangers can catch and snag the fabric. 
Shirts, shorts, skirts, and casual gear can be folded and stored, but summer suits and dresses pose a particular problem here. These items tend to drop off hangers, so your regular wire or plastic hanger may not cut it. We recommend padded hangers for slippery pieces and garment bags for extra protection. Cloth garment bags are a better option, as they resist mildew better than plastic but are not optimal if you like to see what garments are being stored. Labeling the bags with tags or event duct tape for easy identification works well. But, if you prefer plastic garment bags, invest in garment bags that are moth and bug, dust, and water-resistant.
As far as plastic bins are concerned, for storing your foldables, they're as ubiquitous as they are inexpensive. Brand name bins can go for over $20, but if you're feeling frugal, they can come in at $8. 
You may want to invest in a portable clothing rack for hanging garments. They can vary in price and are often expensive, but this model is on sale online for $20. There are several models available for roughly $40 as well. 

Let's Break it Down by Summer Fabrics 
Cotton
Cotton is soft, breathable, and wrinkles easily. 
Cotton shrinks: wash in cold water and dry on low heat whenever possible. 
Read the label carefully before washing, the wrong product can wreak havoc on such a delicate fabric.
Dressy cotton garments should absolutely be stored hanging to avoid wrinkles. 
Linen
Linen is more prone to severe wrinkling than cotton, but if you're into the bohemian look, it might work in your favor. 
Linen works best with dry cleaning, as they absorb a lot of water during washing. If you wash linen, dry separately from other fabrics. They'll take longer to dry. 
Steam your linen, don't iron. Linen burns easily. 
Bugs will eat linen, so store with care and choose your storage unit wisely.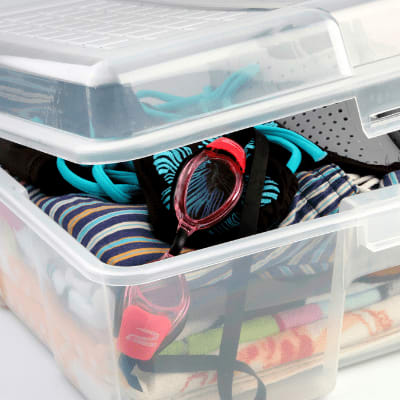 Bathing Suits
Bathing suits are mostly blended fabrics, which are made to be tough. Unfortunately, everything a bathing suit is exposed to - chlorine, sun, sweat, sunscreen - eats fabric. 
Here are some tips to make them live longer: 
Men's and women's suits are actually made from different fabrics! Men's usually can be machine-washed, and women's swimwear almost always has a "wash by hand" label.  
Air dry bathing suits, machine drying can damage the fibers. And, make sure they are as dry as possible before being stored because they can and will mildew. 
Stay Local with Downtown Self Storage!
If you ever need a place to store your summer clothes, look no further than Downtown Self Storage! We have competitively-priced, well-ventilated, clean storage with two convenient locations in the Pearl District. Downtown Self Storage is locally owned and has been serving the community for over 30 years. Check out our specials at DOWNTOWNSELFSTORAGE.COM 
DOWNTOWN SELF STORAGE - DAVIS STREET
Website: Davis Street 
1305 NW Davis Street
Portland, OR 97209
503-388-4060
DOWNTOWN SELF STORAGE - JOHNSON STREET
Website: Johnson Street  
1304 NW Johnson Street
Portland, OR 97209
 503-388-4061
Follow our Blog for storage tips and connect with us on social media @downtownselfstoragepdx