When renting a storage unit, having the right size pays dividends. There's no reason to pay for the square footage you're not using or to frantically book a larger unit because your sofa is much bigger than you thought. With a bit of planning, measuring, and little elbow grease, you can make optimal use of your unit. 
Downtown Self Storage has an array of self-storage unit sizes ranging from units that are smaller than 5x5 if you only have a few holiday decorations to store and up to 20x30 in case you need to store garage size contents. 
We have a handful of steps you can take to ensure the storage process goes off without a hitch.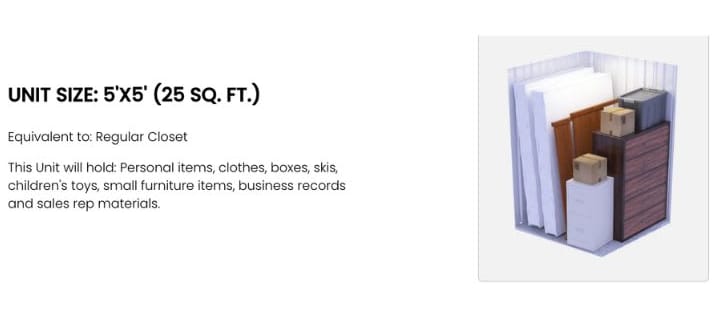 Take Stock of your Stuff 
It's always a good idea to make you have a clear picture of everything you want to store before you start. Step one: make a list. Step two: measure. Step one is simple: double check, make absolutely sure that you have everything you want to store on the list, and that it's accounted for for the next step. Step two can be a little more complicated. One way to go about it is to measure everything separately. For a more physical solution, put everything you plan on storing (you don't have to do the big stuff if you don't mind doing some separate calculations) in a rough pile, and calculate the square footage. This process can be a little time consuming, but it's likely to be more accurate when it comes to the calculations.  
The good news is that our Downtown Self Storage team is on-site and always ready to help with any of your self storage questions.

Do the Math
Once you've assembled your list, you'll need to calculate how much room you need. Measure the width and height of your pile, and remember to account for how the items you didn't stack will physically fit. Width is multiplied by height. It's better to round up if you're not sure. Then simply add the measurements for the things that were too big for the pile. For a more mentally challenging option, simply do the math without stacking. If you measured each item separately and skipped the pile, this is your step. This requires some imagination but can be worth it if carrying boxes and moving furniture is not for you. Remember to check our self-storage size guide on the Downtown Self Storage website for helpful tips. 
Pick Your Storage Unit 
Take a look at the images throughout this article and at our website and compare it to your calculations. If you only need 20 square feet, a 5x5 or even a 5x4 will do great. If you need that 300-square-foot unit, Downtown Self Storage still has you covered, and check the online specials for great deals! 
Downtown Self Storage 
Whatever size you need, Downtown Self Storage has space for whatever you need to store! We've served the Pearl District and surrounding Portland neighborhoods for over 30 years and are honored to continue that trend. Need moving supplies? We have a variety of boxes of many sizes and other moving supplies available on-site.
---
Monthly Special 
Rent a unit today and receive 50% off your first three months (size and availability restrictions apply). 
U-Haul for Rent
Need a truck or van? Both Downtown Self Storage facilities are certified U-Haul rental locations. Reach out to our self-storage professionals to reserve.
Locations
1305 NW Davis Street
Portland, OR 97209
503-388-4060
1304 NW Johnson Street
Portland, OR 97209
 503-388-4061
Follow our Blog for storage tips, and connect with us on social media @downtownselfstoragepdx.