Portland Loves Bikes!
Portland is famous for its bike culture, and the Pearl District is an eminently bikeable area!  But what are the logistics when you're not riding and have an apartment or condo without a lot of extra space?
Where do all of those bikes go when they're not on the road? 
If you're looking to take part in that hallowed Portland bike tradition, but your living space is too tight, we have few tips from our self-storage professionals for storing all types of bikes - mountain, road, hybrid, and even your lovely step-through cruisers.
And if you're seeking bike storage at a self-storage facility, the number and size of the bike(s) and related equipment will dictate your unit size. Check out unit sizes online and ask for recommendations from your storage facility staff.  Always check for pricing specials on the size of the unit you require. 
Before Storing Your Bike 
Clean your bike!
Check your tires - but just in case, Johnson Street - Downtown Self Storage has a bike pump.
Use a lubricant on the cables to help prevent rust.
The 5 Most Popular Types of Bike Storage
Floor Racks
Free Standing Racks
Vertical Wall Racks
Horizontal Wall Racks
Ceiling Racks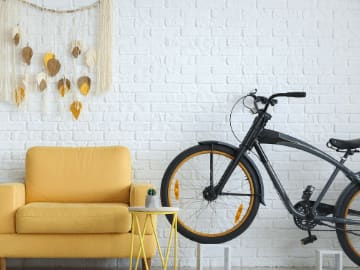 "Put your bikes in a rack on the floor when you store, and your pedals and gears will love you much more."  - Downtown Self Storage, Johnson Street team. 
Pros: 
Doesn't require nails or screws through the wall: a renter's dream. 
It can be anywhere: indoors, garage, back porch, or storage unit!
Mobile: can be picked up and moved. 
Cons:
Can be too big for kid's bikes.
Takes up floor space.
Free Standing Racks
Pros:
Super convenient access! 
No holes in the walls. 
Less installation is required. 
Cons:
Many don't fit smaller bikes. 
They do take up a fair amount of space. 
Some can't fit bikes with disk brakes. 
Vertical Wall Racks
Super space-efficient.
Popular, so there are lots of varieties available.
Horizontal Wall Racks
Pros:
Practical: fits in almost any space.
Requires less hoisting than vertical variants. 
Comes in free-standing or wall-mounted versions. 
It makes for a great aesthetic: turn your bike into wall art while not in use.
Cons:
It does take up a LOT of wall space: bikes are big.
Not super efficient, great for one bike, problematic with three.
Does require some bike-lifting. 
Doesn't always work well with wide handlebars. 
Ceiling Racks and Hooks
Pros: 
Space saver! Leaves your floors and walls free. 
Some of the larger models can fit several bikes, great for garages.
Fits most bike sizes too!
Cons: 
Space-saving, but can be inconvenient to access. 
Children will be completely unable to get their bikes without help. 
Installation can be a bit involved. Check with your self-storage professionals for advice.
_______________________________________
There are many places to buy tools and equipment for bike storage.  Shop local if possible!
Need bike storage? Downtown Self Storage is here to help! We're locally owned and have been serving our community for over 30 years. We're proud of our commitment to the community and our dedication to helping each storage request with professionalism and unique focus. 
Contact us today for specials!
DOWNTOWN SELF STORAGE - DAVIS STREET
Website: Davis Street 
1305 NW Davis Street
Portland, OR 97209
503-388-4060
DOWNTOWN SELF STORAGE - JOHNSON STREET
Website: Johnson Street  
1304 NW Johnson Street
Portland, OR 97209
 503-388-4061
Follow our Blog for storage tips and connect with us on social media @downtownselfstoragepdx