Moving, downsizing, or just needing extra space? 
Renting a storage unit is an excellent solution for individuals and businesses. When renting a storage unit, having the right size pays dividends. There's no reason to pay for the square footage you're not using or to frantically book a larger unit because your sofa is much bigger than you thought. With a bit of planning, measuring, and a little elbow grease, you can make optimal use of your unit. 
Downtown Self Storage has several self-storage unit sizes, ranging from units that are smaller than 5x5 if you only have a few boxes of holiday decorations or books to up to 20x30 in case you need to store garage-size contents. 
We have a handful of steps and examples to ensure the storage process goes off without a hitch. 
5x5: If you have a few holiday decorations to store, a few boxes of clothes, or even skis, 5x5' is the perfect size. Think of it as a fairly spacious closet. Downtown Self Storage also offers even smaller units if you only have a few boxes to store.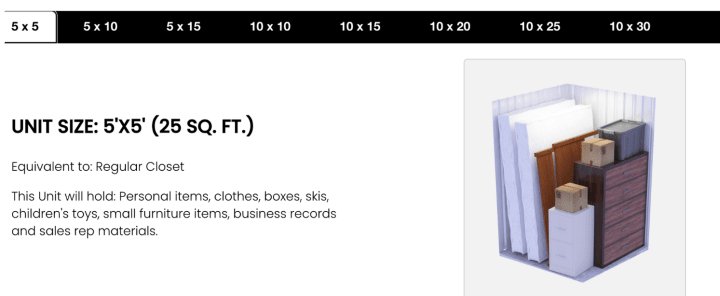 5x10: A midsize unit like this can typically hold a surprising amount of furniture. A sofa, a deconstructed bed and mattress, a bedside table, and several boxes will fit with a little planning. 

10x10: A one-bedroom apartment's furnishings can fit into a 10x10. A sofa, a deconstructed bed and mattress, tables, chairs, and boxes with organization will fill a large unit of this size.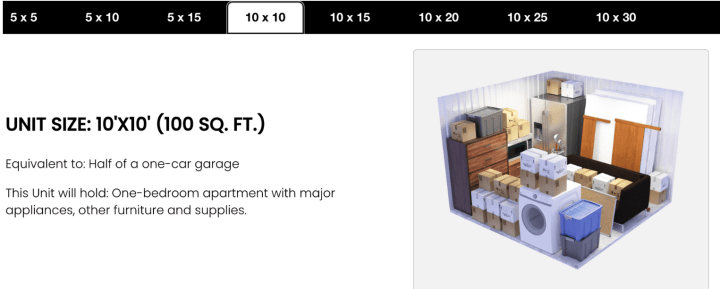 Of course, the larger the unit is, the more things you can store: yard maintenance gear, outdoor furniture, sports equipment, or appliances for your home or office can all be stored. We even have units up to 20x30 to accommodate oversized items. 
For a more complete guide, visit the Downtown Self Storage Blog: https://www.downtownselfstorage.com/blog/what-size-storage-unit-do-i-need and the Downtown Self Storage Unit Size Guide 
Need guidance? Our on-site self-storage professionals at Downtown Self Storage are available to help you find the perfect storage unit for your needs. Don't hesitate to ask questions!
Downtown Self Storage has been the go-to spot for folks in the Pearl District and nearby for over thirty years! With two convenient locations and a wide range of unit sizes to choose from, we've got everything you need to keep your belongings safe and secure. Our friendly staff is always ready to help you find the perfect storage solution to meet your needs. 
Need a truck? U-Haul rentals are available. 
Don't forget packing supplies! Stop by for either location and pick up what you need.  
We Have a Special!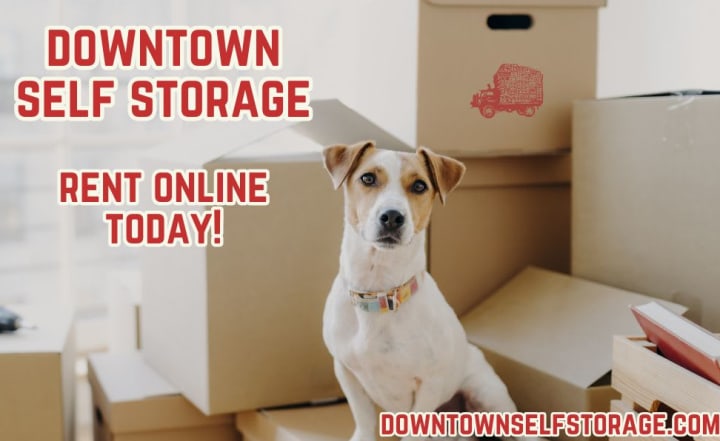 Rent a unit today and get 50% off your first three months! Check out our specials online: www.downtownselfstorage.com. Size and availability restrictions apply. Come see us today!
DOWNTOWN SELF STORAGE - DAVIS STREET
Website: Davis Street 
1305 NW Davis Street
Portland, OR 97209
503-388-4060
DOWNTOWN SELF STORAGE - JOHNSON STREET
Website: Johnson Street 
1304 NW Johnson Street
Portland, OR 97209
 503-388-4061
Follow our blog for storage tips, and connect with us on social media @downtownselfstoragepdx.