Self Storage is an Easy Solution for any Business 
Running a business of any size, regardless of industry, requires a lot of material. Whether it's office supplies, kitchen gear, inventory, or spare parts, it all takes up space, which not everyone has in abundance. A self storage unit is a great way to free up that precious real estate! 
*Contractors need a location for the extra appliances or tools.
*New and outdated inventory for any business can stack up. Storage is always needed for old furniture, holiday decorations, or file cabinets.
*Restaurants need extra space for everything from shelving to glassware.
*Theater and film workers need places to store costumes and other tools.
*Publishers need a place to store excess inventory and supplies.
*Visual artists need a place to store paint, canvas, clay, or any materials they may use.
*In-home professionals like cleaners and plumbers also need a place to store a lot of equipment! 
We have a few more reasons why it's a good idea to use self storage for business.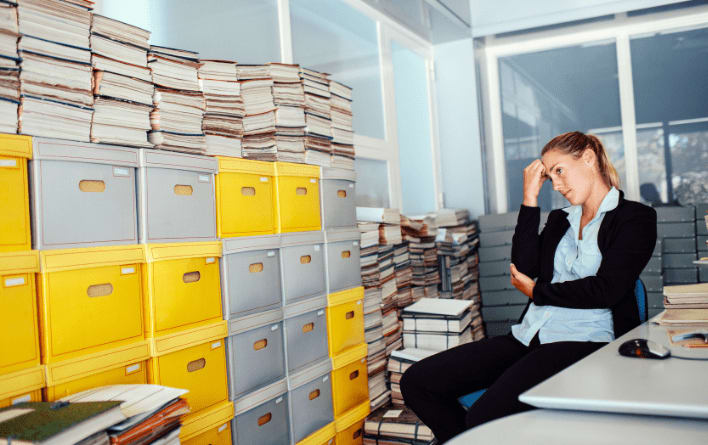 Cancel your Clutter
Keeping your workplace organized can be challenging, especially when things can't just be thrown away. Self storage is a great way to clear your space while keeping your stuff accessible! Make sure to talk to your self-storage professional to find a space that works for you! Check social media for a few hacks to keep things orderly in the office, home office, or garage.
Safety 
Moving extra inventory or valuable items to a secure self storage facility is a plus. A storage unit with surveillance cameras controlled access, and professional staff onsite has an added degree of security that will help ease your mind.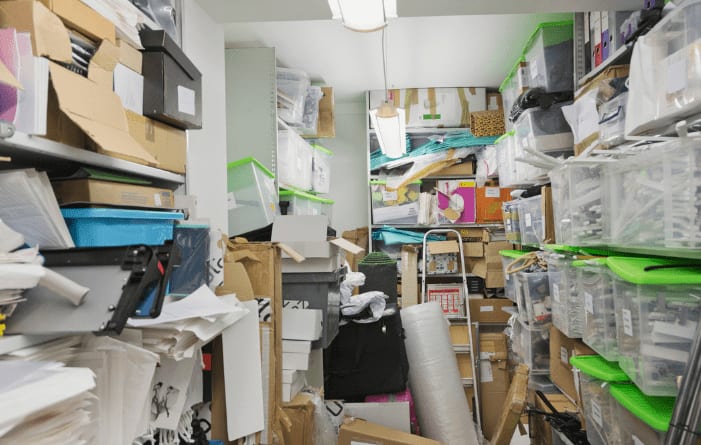 Optimize Office Space 
In the world of ever-changing office use, self-storage is a go-to for businesses. Need to revamp the old conference room into a couple of open desk areas but hesitant to get rid of the high quality (and very expensive) conference table and chairs? Or, how about all the tech equipment sitting in a closet? Whether hybrid or back-in-the-office full-time, take advantage of close-by self storage for flexibility and cost savings.
Time Savers
Convenience is a must for any business - there is never enough time in the day. 
*Rent and pay online is a must!
*Having onsite managers answer questions is incredibly helpful for busy business owners. 
*Self storage should provide easy access to freeways and local customers in surrounding neighborhoods.
*In Portland's seven-plus month rainy season, the ability to load and unload under covered docks is essential.
*Downtown Self Storage is an authorized U-Haul rental location if you need to transport inventory or materials.
*Plus, boxes and additional storage supplies for purchase at the storage facility are an added bonus. 
KGW School Supply Drive 
The back-to-school season is here, and shopping for school supplies can take its toll on students, parents, and teachers. But thanks to the efforts of our local news station, KGW news, and local businesses, there's something you can do! Donating online or dropping off supplies is enough to give over 15,000 students everything they need to prepare for the school year.
If you have supplies you'd like to donate, you can drop them off at both Downtown Self Storage locations! 
Online donations - kgwschool.com
For a list of supplies and more information, check out our blog: 
www.downtownselfstorage.com/blog/kgw-back-to-school-drive 
Serving local businesses in the Pearl District and Portland for over 30 years
Downtown Self Storage has clean, safe, affordable units in two historic, convenient Pearl District, Portland locations. Contact our self-storage professionals or check the Downtown Self Storage website and social media for specials and our storage hacks. We have multiple-size units at great prices and outstanding onsite self-storage professionals to help find the right solution for your storage needs.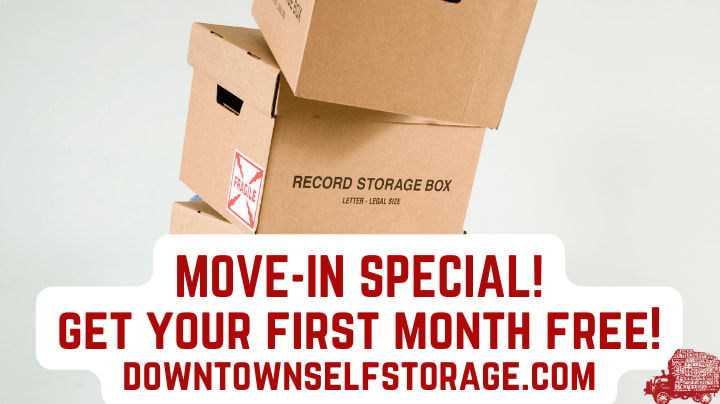 DOWNTOWN SELF STORAGE - DAVIS STREET
Website: Davis Street 
1305 NW Davis Street
Portland, OR 97209
503-388-4060
DOWNTOWN SELF-STORAGE - JOHNSON STREET
Website: Johnson Street  
1304 NW Johnson Street
Portland, OR 97209
 503-388-4061
Follow our Blog for storage tips and connect with us on social media @downtownselfstoragepdx.